Note: Instead of one giant written piece, I've split the AAR into two pieces. Here's a link to the first run with a .308. Here's a link to the Loadout for a more in-depth look at the gear used.
The Second Run (Iron Sights)
As I mentioned in Part 1, I wanted to make a second fun run with some "retro" guns for fun. The money was going to charity, there was space on the roster and the MD said yes, so I just had to survive the heat to shoot a second time. This time though, it would be with an M16A2 clone and my Dad's police pistol, a Beretta 92FS. I won't rewrite each stage description, but here are my notes from each stage and the run in general.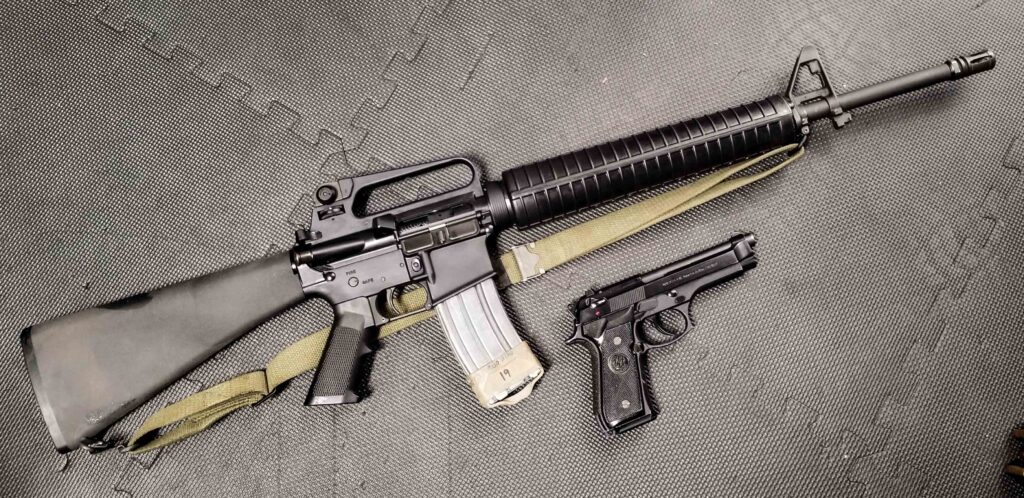 Loadout Article here with more specifics on my setup
As identified in my first run, the humidity was extremely high and not burning off due to the overcast skies. Between my first and second run the sun decided to make it's appearance. While it cleared some of the air it brought the relentless heat.
During the in-between time, I chugged water, some with Liquid IV in it, as well as snacked on a pair of Honey Stinger waffles, a pack of tuna and some applesauce. I didn't want to eat heavy, but needed some energy back in the system to go again.
I also changed out my shirt and socks, but went with the same shorts and damp shoes since I was already wet and sweaty and would soon be so again. Additionally, since my Hill People Gear Runner's Kit bag was soaked and I didn't need the extra capacity for the .308 mag, I put on my HPG Snubby Kit bag since it was dry and smaller. I also put on my Camelbak with about a liter of water with the heat cranking up in intensity.
Because I already had one run in, my legs were warmed up and ready to go for part two. At the launch time, I set off around the lake. One thing I instantly noticed and appreciated was the carry handle on my M16A2 clone was far better at providing a hand hold for different ways of carrying the rifle than a rifle with a scope.
Stage 1 "Walking The Dog"
After emerging from the lake obstacle, I got the brief on Stage 1. This time around I didn't have nearly the trouble with fogging and ran the stage within what I felt I should have done the first time…seeing your sights and what you're shooting does make a difference. Despite running a Beretta 92 versus a Staccato 2011, I shaved about 11 seconds off between not having to reload and firing fewer shots. When I got to the stage I had 1 minute of wait time while a shooter ahead of me was finishing her run.
Time: 23.39 Seconds- 1st Place
Stage 2 "Ammo Drop"
I feel that Stage 2 could have been executed well with irons or optics on a rifle. The wide transitions and 1-hit requirement meant that if someone placed rounds on target quickly and transitioned well they could run similar times. I was faster on my second run, which I believe was attributable to less recoil of the 5.56 versus fighting to get the .308 on target. Otherwise the stage execution didn't change for me.
Time: 39.50 Seconds – 1st Place
Stage 3 "Getting Easier"
This one was again faster the second go-round, firing fewer pistol shots being able to see (even if the sights were more crude) and less recoil on the rifle meant faster splits. I still fired a few extra shots on the head shots to be safe. I had about 2 minutes of wait time on this stage.
Time: 27.09 Seconds – 1st Place
Stage 4 "Getting Tired"
On the barricade I was about a second and a half behind my first run, which I'd attribute to the optic. It took just a little bit longer to settle the rifle with iron sights. My pistol run was very similar, with 8-shots for 8-hits, quickly. I also had about 2 minutes of wait time on this stage.
Time: 45.10 Seconds – 2nd Place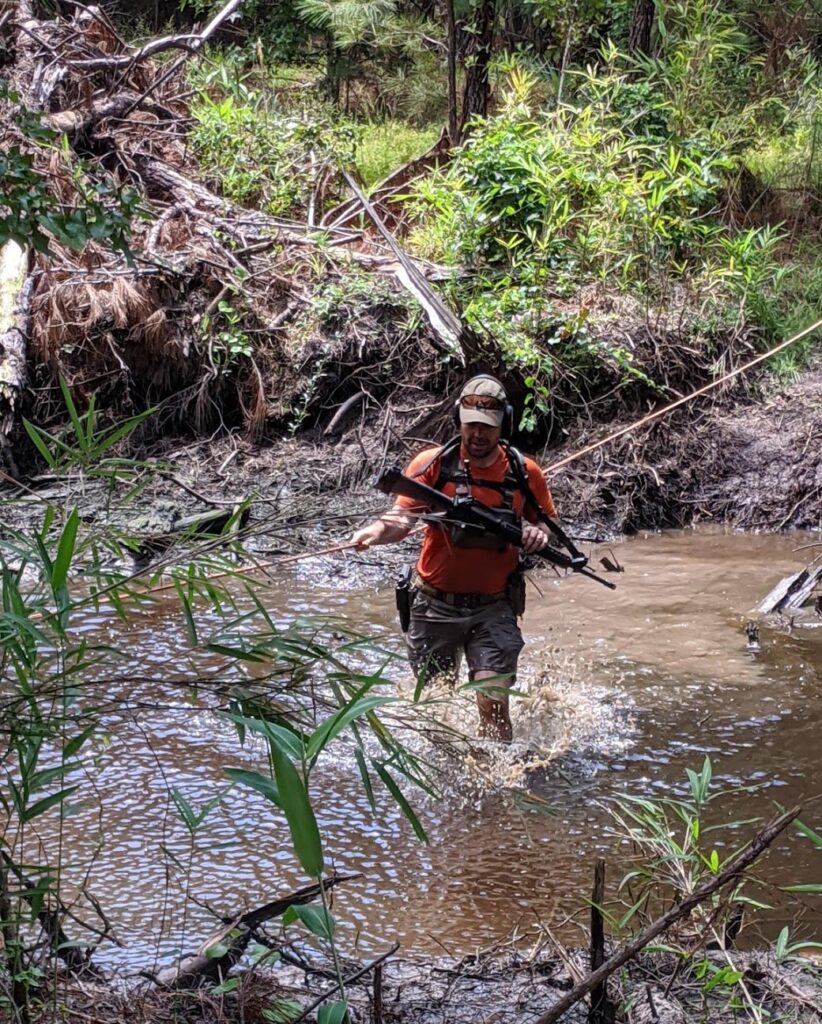 Stage 5 "The Moat"
I was a few seconds slower here. The pistol shots felt about the same, with a few extra required on the skinny knock-down plates. With the A2 sights, the left-most mini-popper gave me fits as by the time I came through it was dark gray from hits, against a gray backdrop and in the shadows. I could see the right two targets, so I held where I thought it would be and bracketed shots until it was hit. In total I fired more extra shots here than on the rest of the course combined.
Time: 44.09 Seconds – 2nd Place
Bonus Pistol Shots
I only managed 2 of 5 here at the 45 yard plate. With my Staccato I know it is regulated for 50 yard shots. With the Beretta I grabbed it out of the safe, and suspect it might have been a little high and I was gassed at that point…so I only picked up 2/5 hits.
Run Time
On run time, after adjusting the bonus shots and wait time I was within a minute or so for each run. During the stages a few of the RO's asked if I already knew the stage brief, but to keep things fair I had everyone go through the full brief for time comparison.
During the run itself, the first half of the match wasn't bad. However as the temperature continued to climb, fatigue started to build. The last two segments were a grind to get through and I was watching my HR, taking more frequent fast walks to keep my HR somewhat stabilized instead of straight running through. Looking at HR data, I was averaging a higher heart rate the whole time for both running and shooting.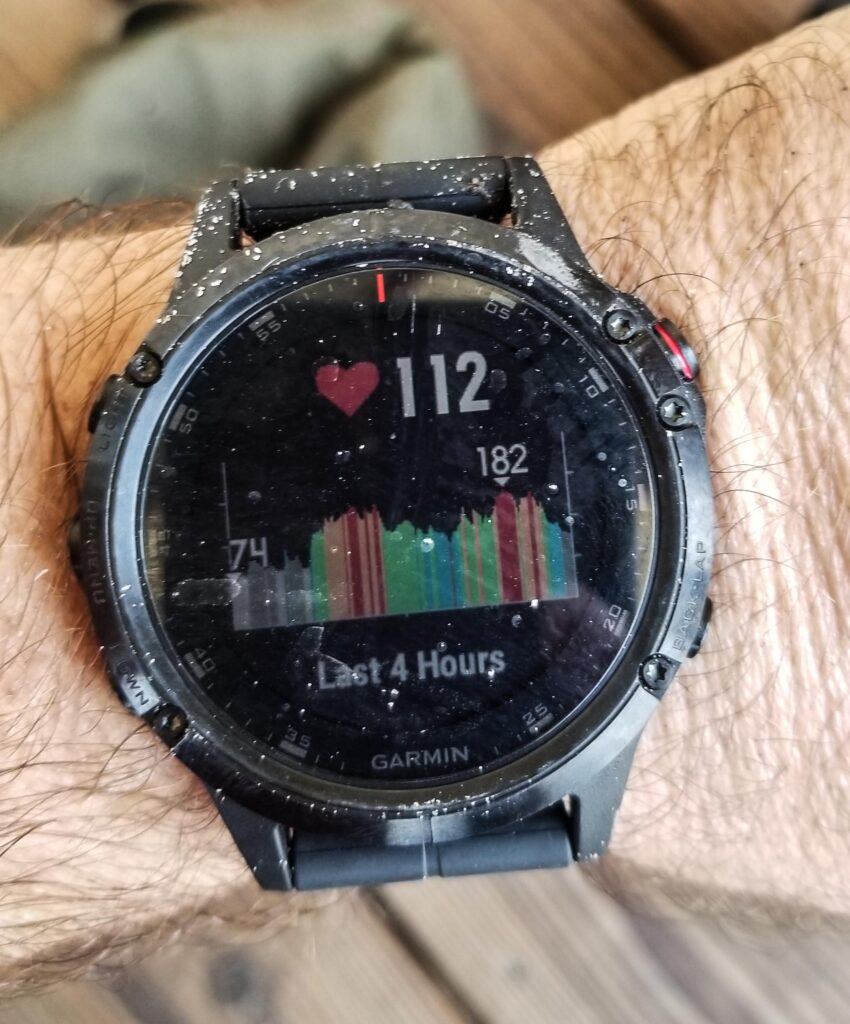 Thoughts on 2nd Run
Running the iron sight M16A2 clone and my Dad's police pistol was a fun exercise. Run and Gun stages are not elaborate like a long USPSA field course, so some advantages of a race gun can be overcome with good shooting regardless of the gun you bring. Generally speaking, making good shots and keeping a simple stage plan/following the course of fire while tired, wet, dirty and at an elevated heart rate will allow you to perform well. In this case, I actually shot better with the A2/Beretta combo than the expensive .308, scope and 2011 combo. I don't feel my pistol shooting was up to par the first time through by not having a good plan/solution to the fogging glasses…but you've got to deal with the hand you're dealt. The overall takeaways though:
Remember to have fun doing this…if you're not maybe find something else.
Run what you've got, you'll do better than you think.
Keep training and practicing with what you have, knowing what you have and how to use it matters far more than having the latest shiny piece of gear.
Hydration and calorie management is important when pushing hard in the heat, especially over a sustained amount of time.
In total, I fired 51 rounds of pistol compared to 37 required. and 61 rifle against 40 required.

My scores:
Shooting Scores – 1st Place Overall
Stage 1 "Walking The Dog" – 23.39 – 1st
Stage 2 "Ammo Drop" – 39.50 – 1st
Stage 3 "Getting Easier" – 27.09 – 1st
Stage 4 "Getting Tired" – 45.10 – 2nd
Stage 5 "The Moat" – 44.09 – 2nd
2/5 bonus pistol hits

Run Score – 45 minutes 59.67 seconds adjusted run time – 11th place Overall
Overall Placement – 1st Place
Many thanks to the 17 South Club, Tim, Mark, Brian, all of the ROs and anyone else that helped host this great event. I look forward to going back for the next one!

As I mentioned in Part 1, the match winner got to choose a charity of choice for half of the match proceeds to go to. There were many current and former service members present at the match, but I got to spend some time talking to a few US Army Rangers, who are stationed with 1/75 at Hunter Army Airfield in the area. The Sua Sponte Foundation exists to help Rangers and their families in times of need, and I chose this foundation to receive the proceeds. Learn more at: https://www.suaspontefoundation.org/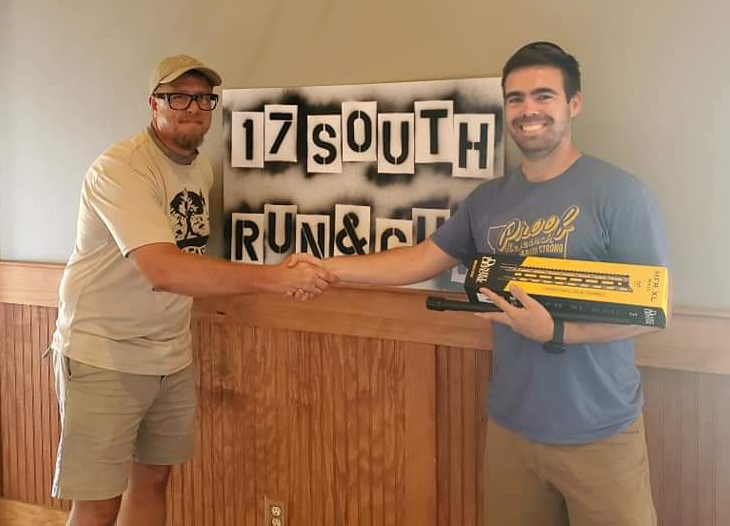 Click HERE to read Part 1 of the 17 South Run and Gun AAR.