The Mammoth Sniper Challenge is a shooting event combined with a rucking challenge and camping trip rolled into one. There are countless hours of preparation, some teams work many months in advance to prepare. Having the "right" loadout is often debated as each team has their beliefs and preferences on what to bring. You ultimately have to answer the question, how do I prepare for the unknown? Teams don't finish or place well solely based on gear, it's being able to use what they have and score points, while surviving the rucks. At step-off my load-out without the clothes I was wearing was 54 pounds (including rifle). Here's my load out from the 2020 event as primary shooter:
Guns and Shooting Kit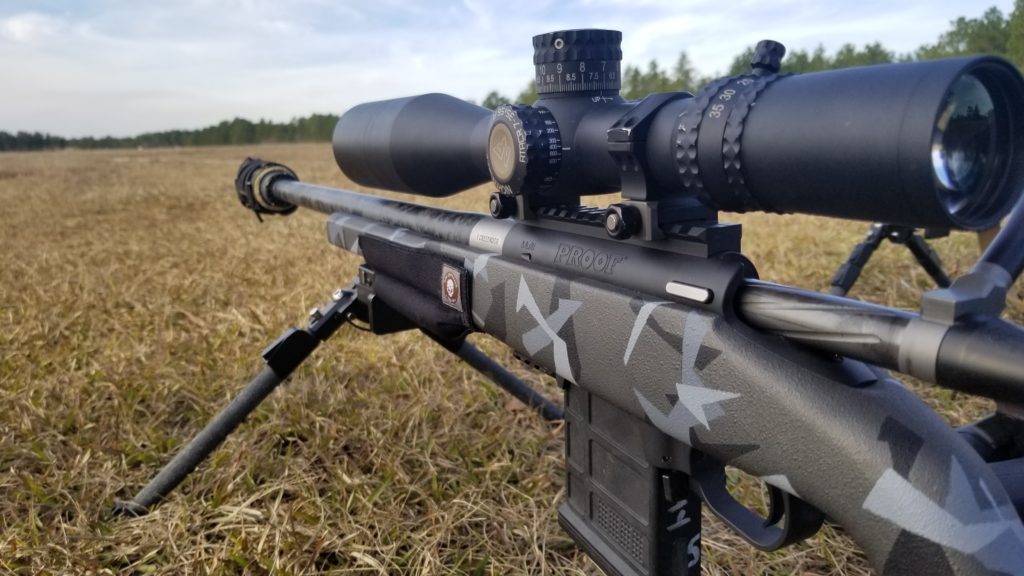 Rifle: PROOF Research Tac 3 in 6mm Creedmoor. The rifle features their carbon fiber composite barrel finished at 24″ and carbon fiber stock to save on weight. Equipped with a SilencerCo Omega suppressor, MDT CkyePod and ATACR 7-35x the rifle came in at 13lbs. My partner shot a near identical rifle but chambered in .223, which is beneficial for being able to call out rifle configurations needed on a shooting position, or in the event of partners having to swap rifles.
Scope: ATACR 7-35×56 F1 with Mil-C reticle. While a big and heavy scope, the quality glass makes it easier to find and engage targets. With the ability to soak up abuse and keep on working, anything with NF on the side is good to go in my book. I went with the Mil-C reticle due to anticipating more dialing for shots as well as the inverted T in the reticle for ranging targets, which paid off on one stage.
Rifle Ammo: Hornady 6mm 110gr A-Tips at 2985 fps. This load was very accurate and had consistent velocity with 41.5gr of H4350, offering an SD of 8-9fps with virgin Hornady brass. I sized the brass, touched it with a Henderson trimmer and then primed with Federal 210Ms. Before the match the gun had a practically perfect zero and had data that was verified past 1500 yards.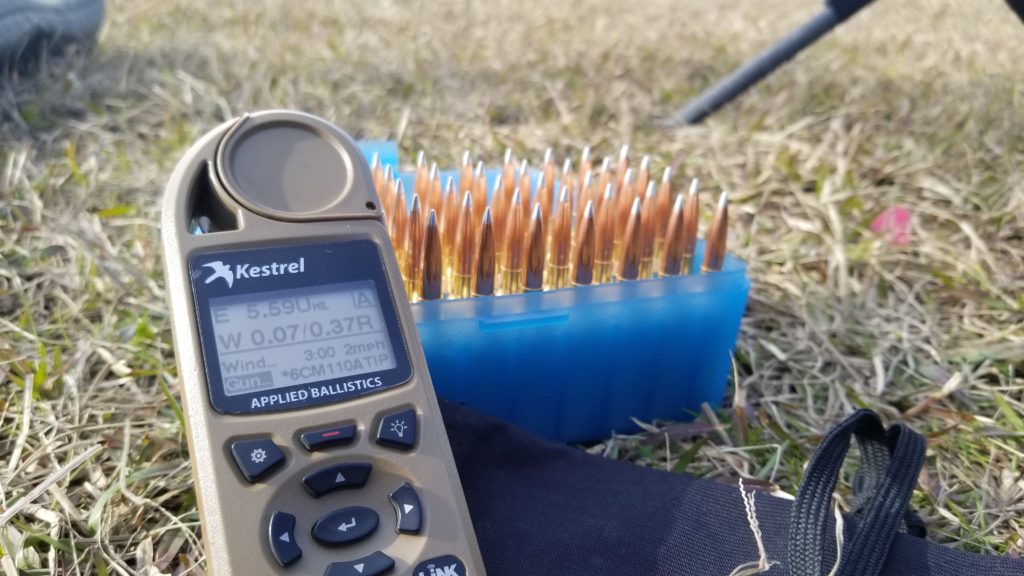 Pistol: Glock 17 Gen 5 with Warren Tactical Sights and Zev connector. The pistol was straightforward, and I chose to run my G17 instead of my usual G34 as it shot better with our ammo choice. Mags were Magpul 21rd magazines for extra capacity while being very lightweight over standard OEM mags. The gun resided in a Safariland ALS holster, as retention is insurance against the pistol falling out during a stage, which unfortunately happened to a team and they got DQ'd.
Pistol Ammo: We chose to run Federal aluminum case 9mm as we found it accurate enough, but when carrying 100 rounds were able to save a half of a pound over brass cased ammo.
Other Shooting Kit:
Binoculars – Leica HD-B 3000, with laser range finder. Binos help when scanning for targets by using both eyes, and Leica has done a great job with their lasers.
Shooting Bag – Armageddon Gear Gamechanger bag with Git-Lite. Since I use this all the time, having the familiarity was a comfort thing, but the bag is capable for a wide variety of shooting positions, which did pay off on a few stages.
Kestrel 5700 Elite with Applied Ballistics – the Kestrel was loaded and trued up with our ballistic profiles. While we had written data, it was handy for double checking density altitude changes, target distance estimation on the milling stage and determining target size in Mils for wind brackets.
We dragged along a compact Really Right Stuff tripod with an Anvil head, which worked well on one stage for us. The tripod is a heavily debated piece but going with a more compact and lightweight model makes it easier to carry if the primary intent is for sitting/kneeling shooting positions or as rear support of a rifle.
Spare Parts: For a little insurance, we both had a spare bolt head for our TL3 based actions, along with a spare trigger that worked in both rifles. We also had a breakdown cleaning rod just in case of problems during the match.
Mayflower/Velocity Systems arm board with written data for 500 and 1500 ft Density Altitude, along with spare Rite In The Rain note cards, a pen and dry-erase marker. The marker is great for quickly recording necessary data on a stage such as target location/distance, and the cards would record needed data provided in a brief.
Pack
For 2020 I was able to get my hands on a Mystery Ranch Sawtooth 45, while Greg ran his Pintler bag from last year. The Sawtooth breaks away from the traditional tri-zip design and has a 270-degree zippered opening. It has slightly more space than the Pintler but features their upgraded frame and pads. At step-off the bags were really full, but as food and ammo were consumed the bag became a little easier to stuff. The only things outside the main compartment were my quilt in a dry bag hanging off the bottom, rifle strapped to the back and rear bag strapped to the top.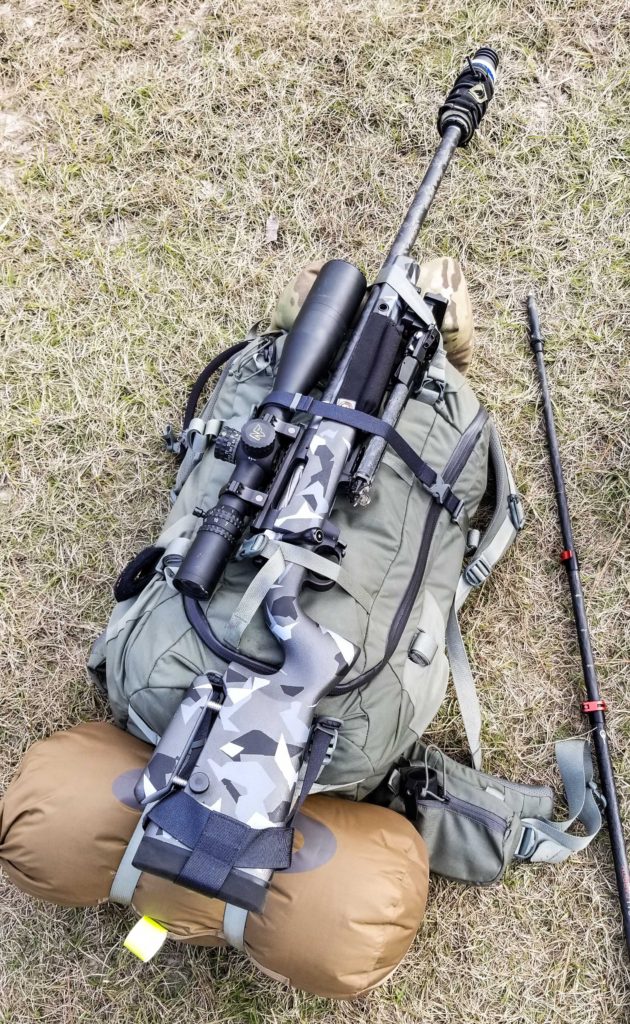 For carrying the rifle, we both had Kuiu rifle straps that had a harness for the butt of the stock at bottom, strapped the rifle across the receiver and then crossed top straps around the barrel at the top. This was very sturdy, and the rifle didn't move or bounce at all when moving.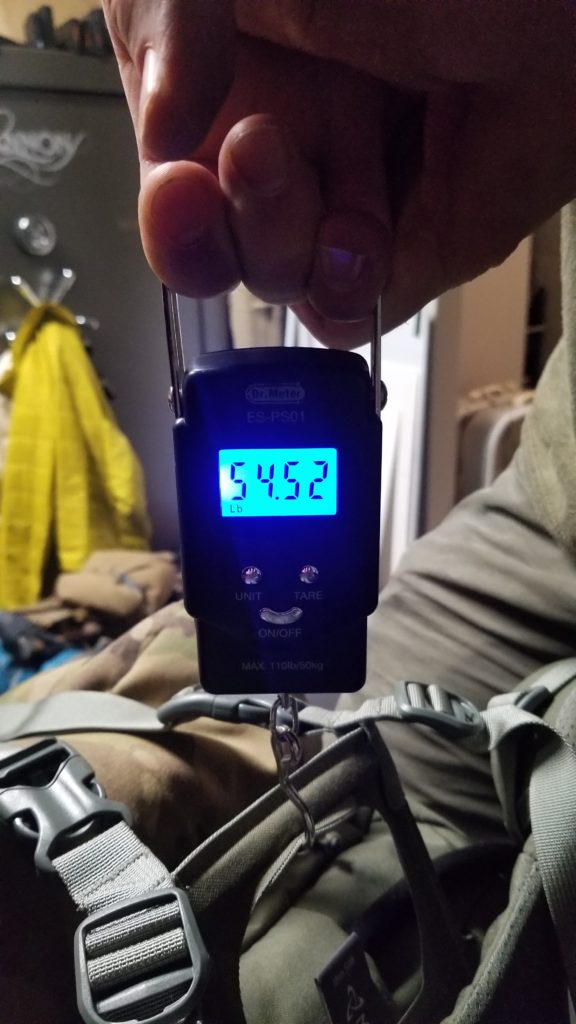 Sleep Stuff
Tent – We each carried half of a Six Moon Designs Haven. While snug, the tent worked well to fit both of us and our kit under the fly. The design had a path for air to flow under the edges, so not sure how it would have done in high winds. Also, it was a little complicated to setup despite doing it before, something we hadn't worked out a fast method if it was raining. We will probably change this for future years if we go back.
Sleep System

Instead of packing a sleeping bag, we both invested in an Enlightened Equipment quilt. The theory for a quilt is with a sleeping bag you are crushing the insulation beneath you, making that portion useless. A quilt that fits around/attaches to a sleeping pad can save weight but offer the same warmth as a bag. We both went with custom options, mine being extra wide and a 10-degree rating anticipating it being cold out. Since it was much warmer this year than anticipated, it was almost too much warmth, but it was cozy.

30 ounces plus 3 ounces for Outdoor Research dry bag

For a pad we both went with Exped inflatable sleeping pads to save on weight and size. I chose the Winter HL which had a slightly higher R value for insulation, but again the warmth didn't get tested this year.

22 ounces with carrying bag and inflation bag

For a pillow I started with a Klymit X Pillow, but after the first night I ditched it as it was not very comfortable. Even though inflatable and 2.5 ounces, the design just didn't work for me even trying different amounts of air pressure. My Gamechanger with Git-Lite worked quite well on the second night.
Clothes/Personal Care
Clothes and personal items are something that can vary greatly depending on weather and desired personal comfort. If the forecast had turned to colder, additional layers would have likely been necessary. We planned for some weight here for comfort in the cold but ditched what we could at the last minute with the warmer weather. Minus the pants, two shirts and shoes, everything came in at 4 pounds for the extra layers, gloves, socks and rain jacket that rode in the pack.
Clothes

Kuhl Silencr Softshell convertible pants – the convertible aspect was great for being able to go to shorts when it warmed up. Softshell pants are perfect for minimizing soaked pants when it rains or laying in wet grass, as well as being quick to dry when the moisture stops.

Outdoor Research Echo shirt – this worked out to be a great base layer shirt for mild weather, as it breathed when sweating profusely and also dried out quickly.

Outdoor Research Echo hoodie – this stayed on most of the day for me as an extra lightweight layer that helped maintain an even temperature for me, while also offering protection for my arms on stages.

Socks – we experimented heavily with socks, ultimately settling on some toe socks with a liner based on the advice from guys who carry heavy stuff a long way for a living. The toe socks keep the toes from rubbing against each other, while also spreading the toes slightly for a little better traction. I had a duplicate set to alternate days with, as well as a spare set of comfortable socks for the campsite.

Additional clothes included:

Insulated jacket – this helped keep warm a few times after a ruck or stage after getting cooled down but still covered in sweat and getting a chill.

Thermal layer – this was my sleepwear and could have been used if the temp had dropped

Gloves – I had a pair of Mechanix insulated gloves but never used them other than to handle a hot cup from cooking

Beanie – I had a lightweight OR beanie and a down beanie, but never needed them as well

Rain jacket – even though rain was called for, I left the pants behind, relying on my softshell pants and anticipating getting wet anyways. The jacket was used for a few sprinkles and as a windbreaker a time or two. Military surplus ECWCS level 6 stuff can usually be found at a good deal, and you don't feel as bad crawling in the mud than with something from Arcteryx

Shoes – I tried several different shoes/boots and ended up using a pair of Salomon X Ulra 3s. These had great traction and were much lighter than my Keen Targhee IIIs that I used last year. I found saving weight on the feet made a big difference towards the end of ruck when I started to get tired.

Personal Care items

I kept everything managed in a Mystery Ranch zoid bag, including:

Camping toothbrush and toothpaste

Travel stick of deodorant/anti-perspirant

Battery Charger and 3" cable
Food/Cooking Kit
Nutrition was one of the things we focused a lot of preparation on as we knew the importance from other events we have done, as well as seeing what calorie deficiencies did to some teams last year. We knew in an average day what our calorie burn was, plus what it would take for continuous physical activity. Our plan going into the match was to bring enough to sustain each person, eating at shorter intervals. Instead of eating big portions and having to digest while rucking or shooting, we would take turns heating up a meal and splitting it throughout the day. This led to some calorie intake via meals at breakfast, brunch, lunch, afternoon snack and then ate 1.5 meals worth at dinner. We supplemented this with some Honey Stinger Waffles and Jolly Ranchers, and honestly, I can say I never felt hungry during the event. Because we were full going into Sunday, we ate some of our planned oatmeal Sunday morning and just ate some of the waffles before rucks and ended with a meal a piece leftover. Each day was packed into its own Ziploc bag and labeled.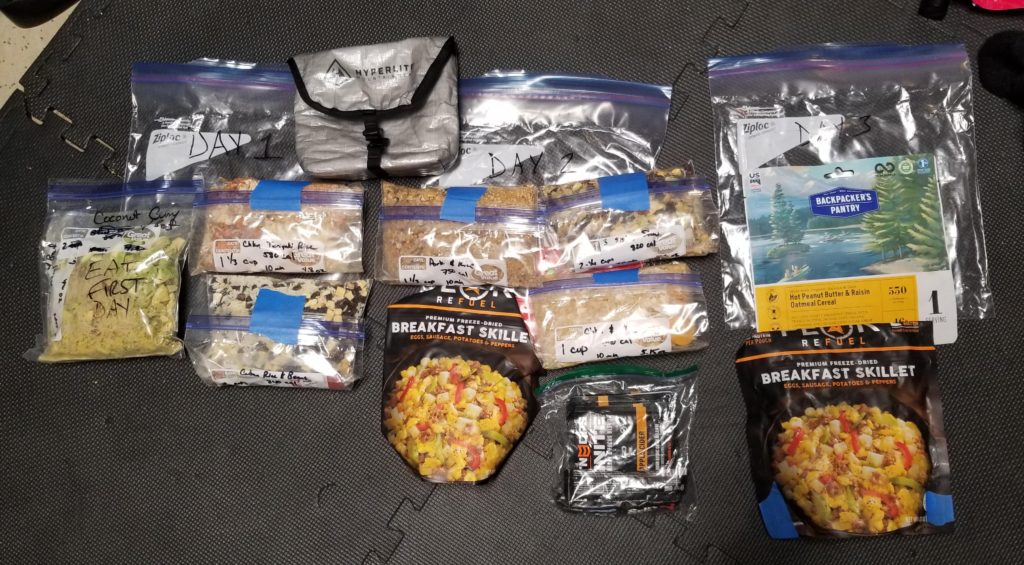 Due to the amount of food we had, we each decided to have a stove and fuel. We both had Snow Peak stoves and a 4oz fuel canister. These lasted until Saturday night, but we had burned some fuel heating up some water for Mountain Ops Hot Ignites as well. Cold oatmeal Sunday morning wasn't terrible as we were staring down the end, and the warm liquids were well received Friday and Saturday.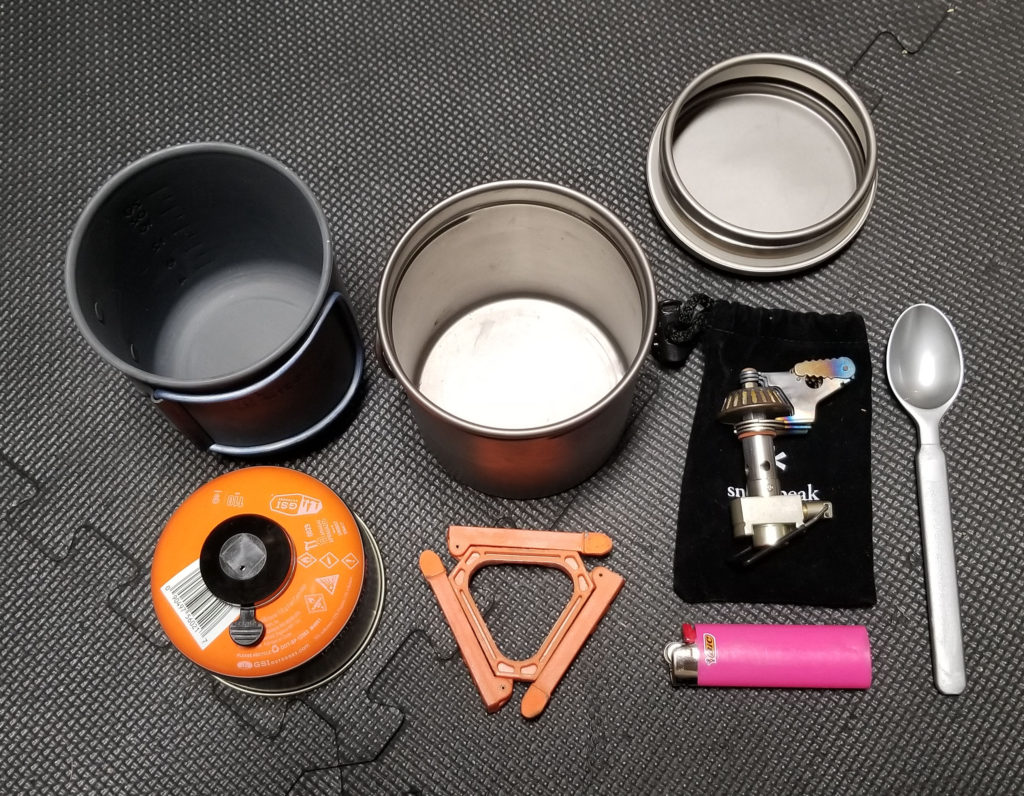 We both brought titanium cups in addition to our cooking cups, which was nice for having extra water to drink or mix up a brew. Another find was a Hyperlite Repack, weighing only 1 ounce it was an insulated bag for food heating. All our meals were repacked into 1-qt Ziploc bags to save weight and space. Once the water was heated, with the Ziploc in the Hyperlite bag we added and mixed water. The Reheat bag kept the food warm while it re-hydrated so we had hot food to eat.
Final Thoughts
Part of the Mammoth experience is the preparation. Whether working on your ruck times, practicing your shooting or constantly evaluating what you are going to bring, it's a path to self-betterment. You can spend a lot of money chasing ounces and fine-tuning your load to make life easier. My load out might not work for someone else, so it's important to figure out what you need to make it to the end. People have crossed the finish line carrying 40 pounds of stuff or 80 pounds of stuff… meaning while some gear decisions can help make or break your match placement, ultimately the decision to finish the event comes from within.